CLUB NEWSLETTER
September 2023
The Wines
Your quarterly club wines are here!
2021 Reserve Figone Grenache
Grenache is one of the most widely planted red wine grape varieties in the world with France and Spain being its largest principal wine regions. Grenache ripens late, so it needs hot, dry conditions such as those found in Spain, the south of France and the Fair Play AVA.
Nearly three times as much Grenache is planted in Spain as in France. The Spanish know this grape and wine as granacha, where it is the dominant red wine variety in Catalonia and prominent in Rioja. Grenache is most notable as the base varietal for Chateauneuf du Pape, and Cotes du Rhônein from the Rhone Valley in the South of France.
2019 Reserve Estate Old Vine Petite Sirah
Quite widely planted in California, the Durif can wear many hats. Despite the name, it's not at all petite. Deep and rich in color the Petite Sirah can be a mouth full. Its inky color and tartness make it a perfect blender in even a lighter Pinot Noir. One year I sold surplus Petite Sirah to Taittinger to blend and pick up the pace of their $100 By the Gate Pinot Noir. Don't be confused by the name, this is not a Rhone wine; age this lovely inky rich wine of an avb 14.2%. It is certainly age worthy. A perfect wine for the long winter ahead of us. Excellent with fatty barbequed rib eyed steak or a messy lamb chop.
Cote Du Cosumnes
This wine will take you back to the south of France near Chateauneuf de Pape where the wines are based on Syrah and Grenache, which contribute to its excitement. The name is a spin off the French Cote Du Rhone, Cote meaning hillside, Du translating to "of" and, of course, Cosumnes is our local river. Fondly referred to as the barbequer's delight at Charles B Mitchell Vineyards, this wine is a great medium-bodied wine that pairs well with anything grilled.
A Word From Charles
2023 Grape Harvest
Lots of rain. The soil is saturated. My 30th crush at Charles B. Mitchell Vineyards, how does it affect the yield and quality of the wine? Depending on many other factors, for example: spring frost, rain during flowering, excessive wind. Of course, we're about two weeks late, more hang time defines the perfect harvest!
The guesthouse is undergoing massive maintenance, it should look like new in a few more months! Brian, our winemaker, is currently testing all the crush equipment. After 40 years in the vineyard, Bill Naylor has retired, James Frost is the new vineyard manager and is performing the required prep work for a successful harvest. Excessive rain can result in aggressive sucker growth and too dense of canopy. The current weather is dandy and we are all looking forward to another great wine vintage at Charles B. Mitchell Vineyards.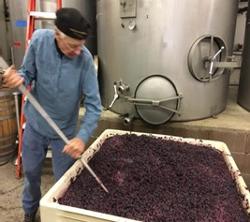 Other news
We recently entered some of our wines in the Orange County Fair and received 6 impressive awards, including; our 2019 Estate Primitivo which was only 1 point away from winning gold! The 2019 Estate Zinfandel earned 86 points, and the most notable was our 2020 Grand Reserve winning a 90 point gold medal. Come taste them and be the judge for yourself!
Nevada Day will be here on Friday October 27th this year. This is always such a fun weekend for us to reconnect to our Nevadan wine community. Join us for food, wine, and discounts!
Mark the calendar for our Veterans Weekend Bottle Your Own Wine Event! We plan to hold that November 10-12, only 3 days this time around, so we hope to see you on one of the days!
If you have any questions, comments, complaints, suggestions, or compliments(!) please call Charles on his home phone at (925)684-2511
Many thanks for your loyal membership,
The Charles B. Mitchell Family
8221 Stoney Creek Rd. Somerset CA, 95684
info@charlesbmitchell.com
(530)620-3467